In 1994, Botswana, a jewel of southern Africa, was one of the first countries to graduate from the Least Developed Countries (LDCs) category. With the new status came unforeseen challenges, and the country danced on the tightrope of a green transition. Rich in diamonds, the nation's rapid economic growth was juxtaposed against the environmental costs of mining and an increasing urban footprint. 
Bangladesh stands on a precipice of its own graduation from the LDCs, facing a similar crossroads. Woefully called 'ground zero' of climate vulnerability, Bangladesh faces biotic and economic pressures to achieve ambitious emission reduction goals despite many climate initiatives and policies. The challenges are manifold as the nation's manufacturing industries grapple with the transition to green technologies.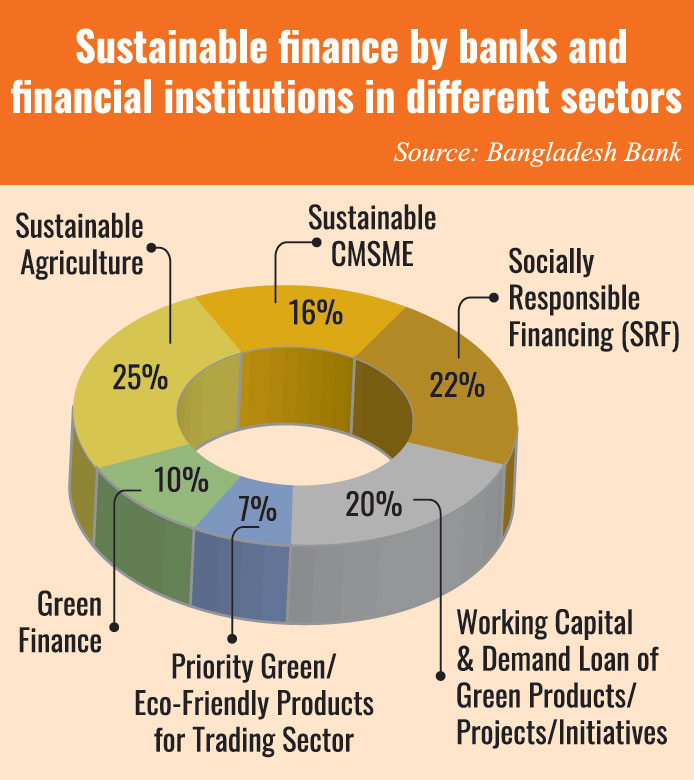 There are exemplary signs of progress. The RMG sector in Bangladesh boasts the greenest factories in the world, with 178 LEED-accredited green factories, the highest in the world. This achievement is a testament to the nation's commitment to sustainable practices in an industry that has been its economic backbone for decades. 
Bricking industry, one of the major polluters, is adapting to cleaner and greener technology of hybrid Hoffman and tunnel kilns, although the diffusion of such technologies is slower than desirable. A smooth and sustainable transition after LDC graduation would require a concerted effort to make the total manufacturing pipeline sustainable and to import and adopt more green technologies, particularly by adopting green capital goods and machineries.
Green capital goods and machineries represent the next frontier in sustainable manufacturing, offering a tangible solution to industries' environmental challenges. The 'Green Taxonomy' outlined by Bangladesh Bank's Sustainable Finance Policy is quite robust and standardized in categorizing Green products across different industries. However, green manufacturing equipment and machineries only got a passing mention. The world has progressed a lot in terms of sustainable innovation and engineering. The options for manufacturing equipment that can be greened across various industries are vast. 
For example, the textile sector can benefit from water recycling systems, energy-efficient looms, and sustainable dyeing technologies. Air-jet and water-jet looms are known to be more energy efficient than traditional ones. Digital printing technologies can also reduce water consumption by up to 50% compared to conventional methods. Adopting these machines in manufacturing may be expensive initially, but these technologies can save up to 40% on future production costs.
In the transportation industry, electrification is already the buzzword. While the adoption of electric vehicles is still in its infancy in Bangladesh, we hope that local production of vehicles can adopt energy-efficient machinery for vehicle assembly and incorporate more recycled materials in vehicle production.
Waste Management, both solid and liquid, gets the topmost priority to ensure environmental sustainability across all industries. However, the waste management industry itself can use a greener revamping. Advanced sorting machines, biogas production units, and efficient composting systems can revolutionize the waste management sector. With its growing energy budget, technologies that convert waste to energy or biofuels are particularly promising in Bangladesh. Advanced sorting robots, plastic recycling systems, and sustainable packaging machinery can also be adopted. Innovations like chemical recycling can also be explored, which breaks down plastics to their molecular level, allowing for a purer recycling process.
The brick production industry is one of the greatest polluters and one of our largest industries. As mentioned earlier, hybrid Hoffman and tunnel kilns are greener alternatives to traditional FCK kilns. Fly ash brick-making machines can produce bricks using waste from thermal power plants, reducing environmental impact. Another important industry in Bangladesh, the food and grain processing, wastes significant water, energy, and resources in each operation step. Energy-efficient milling machines, sustainable packaging systems, and water-saving processing units could be the way forward. For instance, vacuum evaporation technology in food processing can result in up to 90% water recovery.
Last but not least, the agriculture sector is falling behind the most regarding efficient technology adoption, including green machinery. Precision farming equipment, drip irrigation systems, and sustainable harvesting machines can revolutionize Bangladesh's agricultural sector.
However, the real challenge will be the importing and initial costs of adopting these machineries across different manufacturing industries. Green goods and machines can cost a hefty sum, even though their long-term benefits and cost savings usually far outweigh the initial costs. Thus, funding and green financing would be crucial for this transition. As Bangladesh graduates from the LDC status, it will inevitably face a reduction in certain international support measures (ISMs) and preferential market access. This could strain the financial resources available for manufacturing industries to invest in green technologies and machineries. 
Another issue is the willingness and rate of adoption, even with such financial resources being palpable. The Green Climate Fund (GCF), the Least Developed Countries Fund (LDCF), and even Bangladesh's green banking and sustainable financing schemes remain underutilized. Drawing on the RMG sector example from before, manufacturing industries, even the ones with exemplary green adoption, are more focused on green building and green energy than making their work pipeline sustainable. One could argue that this is a case of 'Greenwashing,' a performative greening of the industries to sway attention from the industrial emissions and pollution generated from the manufacturing processes.   
The solutions to these conundrums would be prioritizing and expanding Bangladesh's domestic green financing initiatives and attracting private foreign investment into our manufacturing industries for greener technology adoption. Bangladesh Bank's Green Transformation Fund (GTF) is a shining example. Launched in 2016 with a fund of USD 200 million, the GTF was expanded in 2019 to encompass all manufacturing and export-oriented entities. This fund facilitates the financial means for industries to import capital machinery and accessories pivotal for environment-friendly initiatives. 
The GTF can catalyze manufacturing industries to adopt sustainable practices from water conservation to waste management and energy efficiency. Further steps could be incentivizing private sector investments in green technologies by offering tax breaks, subsidies, or even co-financing options. Such measures can reduce the financial strain on individual industries and attract foreign direct investments focused on sustainable manufacturing. Larger global green funds, such as the GCF, will also remain accessible even after LDC graduation, which can be utilized for green capital machinery imports. 
To bolster the utilization of green funds and schemes, the forthcoming 'Smooth Transition Strategy' must be meticulously crafted with a clear roadmap detailing both government incentives and stringent regulations that champion sustainable manufacturing. On the incentives front, industries could benefit from a myriad of supportive measures, which could include preferential interest rates on loans drawn from green funds, substantial tax concessions, expedited licensing procedures, and preferential access to state-endorsed research, development initiatives, and innovation grants into green machinery and manufacturing. 
On the regulatory side, the government could introduce a phased approach to mandatory adoption of green machinery and sustainable manufacturing equipment. This could be complemented by setting industry-specific benchmarks of green technology adoption and sustainable manufacturing standards that industries must meet within stipulated timelines. 
The journey from being an LDC to a developing nation is about economic growth and ensuring that this growth is sustainable and inclusive. Adopting green technology across its vast manufacturing landscape will be pivotal in this transition. While challenges abound, the confluence of policy, financing, and technology presents a unique opportunity. The dream of a greener future is within our grasp, and if we play our cards right, our graduation from the LDC status will only expedite it. 
For highlight – On the regulatory side, the government could introduce a phased approach to mandatory green machinery and sustainable manufacturing equipment adoption, complemented by setting industry-specific benchmarks of green technology adoption and sustainable manufacturing standards that industries must meet within stipulated timelines.
Arefin Mizan is a senior research officer at icddr,b. In his free time, he passionately explores the realms of economics, innovation, and energy economics. Reach him at [email protected]